Customer service and technical Support
All purchases and questions will be handled by one customer service representative assigned to each client. Semyx takes great pride in the support we offer to our customers. We strive for excellence so we strongly believe 100% in excellent service to our customers. Our products speak for themselves, but our service and support is what sets us apart from the others.
Features :
Our experience in the water jet industry has allowed us to include the small details that will save you time and money in the long run. All our machines are built and sold with the following features:
Semyx's global partnership with Eaton provides innovative solutions which are utilized to build high quality systems that are tailored to each customer's needs.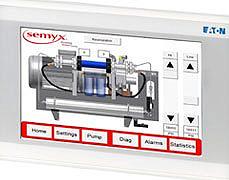 Semyx high end water jet cutting systems are driven by Yaskawa linear servomotors which are used to improve the reliability, speed, and accuracy of the performance. They can re
continue reading