https://edition.cnn.com/2018/03/13/politics/paul-manafort-faces-305-years/index.html
Paul Manafort could face the rest of his life -- and almost 300 years or more -- in prison, a federal judge said Tuesday.
"Given the nature of the charges against the defendant and the apparent weight of the evidence against him, defendant faces the very real possibility of spending the rest of his life in prison," federal judge T.S. Ellis III of the US District Court for the Eastern District of Virginia wrote Tuesday.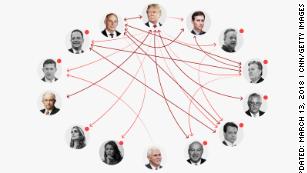 An updated map of the feuds and frustrations splitting the Trump White House
Ellis last week placed Manafort under home incarceration while wearing a GPS monitor and set a $10 million unsecured bail.